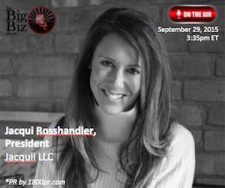 Online, September 28, 2015 (Newswire.com) - NEW YORK, NY - Jacquii LLC, a successful marketer of a highly unique breath freshener product, Eatwhatever, that assures confident kissable breath from within in two quick steps -- simply swallow a tiny gel and suck on a mint -- announced today that President Jacqui Rosshandler will be interviewed on "The Big Biz Show" hosted by Bob "Sully" Sullivan. In this exclusive interview, Ms. Rosshandler will discuss the launch of their exciting new product WoofMints, a revolutionary natural breath product for dogs (canines) due in stores late 2015.
Date: Tuesday, September 29, 2015
Start Time: 3:35pm ET | 12:35pm PT | 2:35pm CT (U.S.) (Approx.)
Network: Syndicated: AFN, TiVo, CBS Radio, Fox Business, AOL, YouTube, Biz Talk Radio, Clear Channel
Show: The Big Biz Show
Host: Bob "Sully" Sullivan
TV Stream: www.ustream.tv/biztv
About The Big Biz Show
The Big Biz Show is a nationally syndicated radio / television program broadcast on 150 stations throughout the country with a weekly reach of 1.7 million listeners reaching over 70 million homes. The Emmy Award winning show was named by TALKERS Magazine as one of the "Top 10 Most Influential Financial Shows" in the country, and is highly recognized for discussing current business events, internet related issues, and other hot topics in the business world, doing so in an informing, laid back, and humorous manner. Hosts, Bob "Sully" Sullivan and Russ "T Nailz" Stolnack, both are renowned and experienced radio broadcast personalities. The Big Biz Show airs Tuesday through Friday, 12:00 p.m. to 1:00 p.m. PT.
About Jacqui Rosshandler
Jacqui Rosshandler, an Aussie turned New Yorker, is the president and COO of Jacquii LLC. A business dynamo, Jacqui said, "My first dream was to create a revolutionary product delivering kissable breath essentially from within where odorous food goes in the first place. I'm living that dream now with Eatwhatever, soon to be joined by WoofMints, a product created for the pet market providing more sociable breath for dogs (canines); 'excited' about the launch is an understatement."
About Jacquii LLC
Founded as Jacquean Products LLC in 2008, the company began selling a boutique version of the product Eatwhatever in niche stores like Colette (Paris), Zitomer, C.O, Bigelow and Ricky's (NYC), then on global websites Amazon, Victoria Health, and Shopmasc. Late 2010, Jacqui met Arthur Shorin, former CEO of Topps, a multi-national company famous for products such as Topps baseball cards, Bazooka bubble gum and Ring Pops. Arthur "got" Eatwhatever instantly, and a new growth chapter began as Jacquii LLC. Today, Eatwhatever is on counters in fine stores across the US such as Duane Reade, Whole Foods, Fairways, Fresh Markets, Dylan's Candy, Earth Fare and many more. The company eagerly anticipates its WoofMints launch and hopes that with both products eventually everyone (two AND four legged) can eat whatever (including onion and garlic!) and feel confident and kissable.
Source URL: http://www.marketwired.com/mw/release.do?id=2059137&sourceType=3
Share: